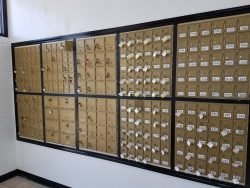 If you're a small business or an individual with frequent shipping service needs in Mountain Grove, Wright County, Norwood, Cabool, or Texas County, MO, ColorXpress Graphic & Copy Center is here to assist you. Though we're primarily a design and printing firm, we offer all of the peripheral shipping and receiving services you may need. Our goal is to help you send and receive packages and mailings with flawless ease.
Track Your Package
Our team is able to help you properly prep and send your packages with minimal headache! Whether you're sending something delicate or you're distributing numerous marketing pieces, know that we're ready to assist you. Our full scope of abilities includes:
Package prep: To ensure your package is properly accepted by major carriers and ready for transit, allow our shipping service in Mountain Grove, MO to help you. We'll make sure it's packed accordingly, weighed, sealed and whatever else it may require before being picked up.
Address labels: Need a UPS, USPS or FedEx shipping label printed up? We've got you covered. Our team can properly weigh your package and enter a destination to create a label that's in accordance with shipping standards.
Packaging materials: Need to pack your own box? We've got shipping materials hand to help you ensure it's packed up appropriately. No matter the nature of your package, you can rest assured we're ready to help you secure it safely.
Mailbox rental: For customers without a business address or who want a safe place to receive packages, trust our FedEx center in Mountain Grove, MO. We offer mailbox rental that's convenient, accessible and affordable.
Package holding/drop-off: If you're not going to be home when a package is due for delivery, we'll be happy to hold it for you. Or, if you've got outbound packages that need to be picked up, trust them to our team!
In addition to the above shipping services and receiving, we're also home to general business services for your convenience. Let us help you fax, scan or print documents as needed. We aim to be your business partner—we can even assist you with folding and stuffing services for mailers!
To inquire about any of our shipping services and receiving, custom banners, or embroidery service, please stop in and consult with a member of our team or contact us today at 417-926-3888.