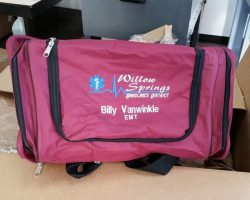 Looking to print up a batch of custom t-shirts for a local event? Want to make embroidered apparel part of your business' uniform? ColorXpress Graphic & Copy Center is your destination for custom t-shirts in Mountain Grove, Wright County, Norwood, Cabool, and Texas County, MO! We personalize apparel to meet your needs, from simple logos to complex designs and beyond.
Our embroidery services also extend to promotional products of all types. We're ready to help you get your business' name into the hands of potential customers through a wide variety of branded items.
Apparel
As the number one destination for screen printing in Mountain Grove, MO, we take pride in delivering high-quality apparel items to our customers. Our team is known for working quickly and turning around orders rapidly, without compromising on cost or quality. Whether you're ordering 5 or 500 shirts, we'll make sure they're done to perfection, on time.
Beyond shirts, we also work with a wide range of other types of apparel, providing customization and personalization services such as screen printing and embroidery services. Our full scope of apparel expertise extends to the following: custom t-shirts, jackets, sweatshirts, hats and more. We also take pride in bringing our customers only products from reputable brand names, including:
Balla Canvas
Gildan
Augusta Sportwear
Harriton Apparel
Carhartt
Badger Sport
Promotional Products
Clothing isn't the only place where you can put your company's name, logo or slogan! ColorXpress Graphic & Copy Center can also assist you in the creation of branded promotional products. We have catalogs full of options to meet the marketing needs of your business. From pens and notepads, to calendars, mugs and beyond, there's no end to the creation options we can provide you with.
Need graphic design services to complete your embroidery services? No problem! We offer our talents to customers seeking to create branded promo products and custom apparel. We want to make sure you're getting exactly what you need when you choose us.
For more information about our screen printing rates, shipping services, custom banners, turnaround times or other questions you might have, please contact a member of our team today by calling 417-926-3888.